Long Island Valentine's Day Events and Valentine's Day Celebrations in Nassau County and Suffolk County, Long Island, New York.
Long Island Valentine's Day Guide - Long Island
Celebrating Valentine's Day on Long Island, New York
Every year, the fourteenth day of the month of February has millions across the world presenting their loved ones with candy, flowers, chocolates and other lovely gifts. In many countries, restaurants and eateries are seen to be filled with couples who are eager to celebrate their relationship and the joy of their togetherness through delicious cuisines. There hardly seems to be a young man or woman who is not keen to make the most of the day. Saint Valentine's Day, also called Valentine's Day or the Feast of Saint Valentine, is observed on February 14 each year. Today Valentine's Day is celebrated in many countries around the world, mostly in the West, although it remains a working day in all of them.
Ways to make your Long Island Valentine's Day memorable:
Valentine's Day Jewelry
Take your Sweetheart to a famous jewelry brand store on Long Island such as Zales, Jared or Kay Jewelers and select from among the beautiful diamonds charms, heart-shaped pendants, gold necklaces, engagement rings, wedding rings and other hand-made quality jewelry.

Valentine's Day Recreation
Your Long Island Valentine's Day adventure should include your favorite outdoor recreation activity at a Long Island park, hike trail, tennis court, golf course and/or for a romantic walk in the sunset at a Long Island beach such as Jones Beach, Lido Beach or Long Beach in Nassau County and Fire Island Beach in Suffolk County. Shall the weather not permit it, visit one of the Long Island museums for Valentine's Day indoor adventure and look at art exhibits o paintings, drawings or sculptures by talented Long Island artists painters, portrait artists, sculptors.

Valentine's Day Fitness
For fitness lovers it is always fun to participate in a Valentine's Zumba master class on Long Island. Click here to find Long Island damce fitness classes (Zumba and LaBlast), master classes, dance fitness gigs, special events and parties on Long Island including Nassau County, Suffolk County and the Hamptons, New York.

Valentine's Day Flowers
Order your Sweetheart flowers from a reputable online flower store such as proflowers.com or 1800flowers.com (1-800-FLOWERS) or stop at your local Long Island flower shop to pick out that special bouquet of roses along with a gift basket of heart-shaped cookies accented with chocolate chips, rainbow sprinkles or heart-shaped red marzipan topping.

Valentine's Day Dinner
Invite your Sweetheart to a romantic dinner cruise across Long Island on a luxury boat or enjoy a romantic dinner at a fine Long Island restaurant - whatever she might be in the mood for. Select from various restaurant cuisine types including American, Asian, Oriental, Indian, Barbeque BBQ, Bakeries, Brew Pubs and Microbreweries, Coffee Houses, Family, Homestyle and Steakhouse Dining, French, German, Greek, Hungarian, Italian, Mediterranean, Mexican, Seafood, Southern Cuisine, Vegetarian, Wine Bars - or simply have a red tomato topping pizza from your local Long Island pizzeria.

Valentine's Day Dance
Live music is always fun. Dance together to your favorite love songs at a special Valentine's Day event at a Long Island night club. You can visit comedy shoes at Long Island comedy club or watch a movie at your local Long Island movie theater or if you are not in the mood to stay out, rent a video at the closest Long Island DVD video rental shop and have entertainment at home.

Valentine's Day Poetry and Love Quotes
Nobody can say it better than the big classical poets, however, you can write your own poem to express your feelings in a very personal way. For intellectuals, your Sweetheart will appreciate books of love poetry, love quotes and/or novels by philosophers, educators, writers, poets, novelists and spiritual leaders so visit your local Long Island Barnes and Noble book store.

Valentine's Day Retreat Getaway Workshops
You may want to check-out Long Island resorts, bed and breakfasts or hotels for special Valentine's Day retreat getaway. Are you looking for help and tips on positive thinking, personal growth, self-improvement, happiness, how to live a good life, spiritual enlightenment? Participate together in a meditation class session to enrich your mind, purify your heart and rekindle your soul inducing consciousness, spiritual unfolding and enlightenment to open to you a new dimension in the art of radiant living, new insights about the secrets how to live a good life in a world full of stress, fear, anxiety and despair presenting the art of living intellectually sound and acceptable as well as emotionally satisfying reviving your faith in the one Being. Click here for Mediation Classes and Events on Long Island, New York.

Valentine's Day Lingerie
Sexy lingerie is a wonderful gift and will bring her into the romantic mood. Order luxury brand bras, panties, camisoles, fishnets, garters, gloves, halter tops from fashion designers such as trashy.com, journelle.com or stop by at your local Long Island shopping mall Victoria's Secret, Macy's, Nordstrom store and pick them out together.

Valentine's Day Beauty Makeover
You can pamper your Sweetheart and treat her to a day at a beauty spa finding solace from the busy every-day life. A complete makeover, hair-do at the hair salon; facial deep cleansing, cosmetics; massage therapy, reflexology, Swedish massage, deep sports, nail care manicure/pedicure.

Valentine's Day Pets
If you are a pet lover, get your Sweetheart and her dog/cat matching outfits so she can show off and take the pet for a stroll. Your local Long Island pet stores have beautiful pet collars, pet sweaters and coats to please your best friend. You can also adopt a pet from a Long Island animal shelter.
Valentine's Day Singles Dating Events
If you're single on Long Island, you can participate in Long Island singles events. Click here to check out dating singles events on Long Island or special Long Island Valentine's Day events.

Valentine's Day Teddy Bears
The child in us stays forever and a teddy bear will surely put a smile on your beloved Sweetheart's face. Long Island gift shops and stores have a wide design selection of cute, cuddly Valentine's teddy bears around Valentine's Day in February each year.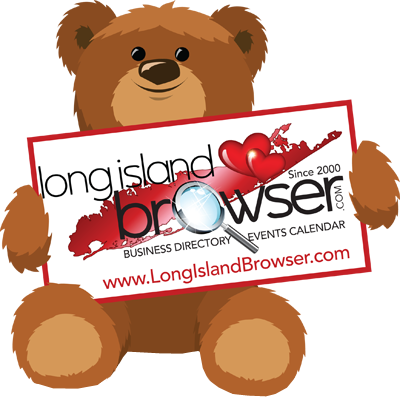 Valentine's Day Perfumes
Among the gift classics are fragrances, women's perfume and men's cologne, cosmetics, skincare and hair care. Looking for the best women's fragrances - Eau de Toilette, Eau de Parfum, Cologne and Body Sprays to surprise your Valentine? Check out the top best selling womens fragrances, the top highest rated women's fragrances and the top hottest new releases in women's fragrances:

Top Women's Fragrances
Guess New By Guess For Women. Eau De Parfum Spray
D&G Light Blue By Dolce and Gabbana For Women Eau De Toilette Spray
Wonderstruck Taylor Swift Eau De Parfum Spray
Viva La Juicy by Juicy Couture Eau De Parfum Spray
Burberry By Burberry For Women, Eau De Parfum Spray
Obsession by Calvin Klein for Women, Eau De Parfum Spray
Peppermint 100% Pure Therapeutic Grade Essential Oil
Paris Hilton by Paris Hilton for Women Eau De Parfum Spray
Euphoria by Calvin Klein for Women Eau De Parfum Spray
Pure Instinct Pheromone Cologne by Jelique
Romance by Ralph Lauren
Armani Code By Giorgio Armani For Women Eau De Parfume Spray
Euphoria For Women by Calvin Klein Spring Temptation Eau de Parfum Spray
Giorgio Armani Acqua Di Gio For Women Eau De Toilette Spray

Top Highest Rated Women's Fragrances
Guess New By Guess For Women. Eau De Parfum Spray
D&G Light Blue By Dolce and Gabbana For Women. Eau De Toilette Spray
Wonderstruck Taylor Swift Eau De Parfum Spray
Viva La Juicy by Juicy Couture Eau De Parfum Spray
Burberry By Burberry For Women, Eau De Parfum Spray
Obsession by Calvin Klein for Women, Eau De Parfum Spray
Peppermint 100% Pure Therapeutic Grade Essential Oil
Paris Hilton by Paris Hilton for Women Eau De Parfum Spray
Euphoria by Calvin Klein for Women Eau De Parfum Spray
Pure Instinct Pheromone Cologne by Jelique
Energy of the Sea Cologne by Inis
Peppermint 100% Pure Therapeutic Grade Essential Oil
I Love Love For Women Eau De Toilette Spray
Moschino Cheap n Chic I Love Love Eau De Parfum
Moschino I Love Love Limited Edition
White Diamonds by Elizabeth Taylor for Women Eau De Parfum Spray
L'Air Du Temps by Nina Ricci For Women Eau De Toilette Spray
Pure Turquoise by Ralph Lauren for Women, Eau De Parfum Natural Spray

Top Hot New Releases in Women's Fragrances
Versace Diamond Eau De Toilette Spray
Lady Gaga Fame Eau De Parfum Spray For Women
Selena Gomez Eau De Parfum Spray
Calvin Klein Eternity Aqua Women Eau De Parfum Spray
Gucci Premiere Eau De Parfume Spray for Women
Gucci Flora Gorgeous Gardenia Eau De Toilette Spray for Women
Givenchy Les Creations Parfums De Givenchy Perfume Women
Cher Lloyd Pink Diamond Eau De Parfum
Bath and Body Works Vanilla Bean Noel Fine Fragrance Mist
Burberry By Burberry For Women, Eau De Parfum Spray
Un Jardin Sur Le Nil By Hermes For Women, Eau De Toilette Spray
The Legend of St. Valentine
http://www.history.com/topics/valentines-day
© A&E Television Networks, LLC. All Rights Reserved.

Every February 14, across the United States and in other places around the world, candy, flowers and gifts are exchanged between loved ones, all in the name of St. Valentine. But who is this mysterious saint, and where did these traditions come from? Find out about the history of this centuries-old holiday, from ancient Roman rituals to the customs of Victorian England. The history of Valentine's Day and the story of its patron saint is shrouded in mystery. We do know that February has long been celebrated as a month of romance, and that St. Valentine's Day, as we know it today, contains vestiges of both Christian and ancient Roman tradition. But who was Saint Valentine, and how did he become associated with this ancient rite?

The Catholic Church recognizes at least three different saints named Valentine or Valentinus, all of whom were martyred. One legend contends that Valentine was a priest who served during the third century in Rome. When Emperor Claudius II decided that single men made better soldiers than those with wives and families, he outlawed marriage for young men. Valentine, realizing the injustice of the decree, defied Claudius and continued to perform marriages for young lovers in secret. When Valentine's actions were discovered, Claudius ordered that he be put to death. Other stories suggest that Valentine may have been killed for attempting to help Christians escape harsh Roman prisons, where they were often beaten and tortured. According to one legend, an imprisoned Valentine actually sent the first "valentine" greeting himself after he fell in love with a young girl--possibly his jailor's daughter who visited him during his confinement. Before his death, it is alleged that he wrote her a letter signed "From your Valentine," an expression that is still in use today. Although the truth behind the Valentine legends is murky, the stories all emphasize his appeal as a sympathetic, heroic and--most importantly romantic figure. By the Middle Ages, perhaps thanks to this reputation, Valentine would become one of the most popular saints in England and France.
Origins of Valentine's Day: A Pagan Festival in February

While some believe that Valentine's Day is celebrated in the middle of February to commemorate the anniversary of Valentine's death or burial which probably occurred around A.D. 270 others claim that the Christian church may have decided to place St. Valentine's feast day in the middle of February in an effort to "Christianize" the pagan celebration of Lupercalia. Celebrated at the ides of February, or February 15, Lupercalia was a fertility festival dedicated to Faunus, the Roman god of agriculture, as well as to the Roman founders Romulus and Remus. To begin the festival, members of the Luperci, an order of Roman priests, would gather at a sacred cave where the infants Romulus and Remus, the founders of Rome, were believed to have been cared for by a she-wolf or lupa. The priests would sacrifice a goat, for fertility, and a dog, for purification. They would then strip the goat's hide into strips, dip them into the sacrificial blood and take to the streets, gently slapping both women and crop fields with the goat hide. Far from being fearful, Roman women welcomed the touch of the hides because it was believed to make them more fertile in the coming year. Later in the day, according to legend, all the young women in the city would place their names in a big urn. The city's bachelors would each choose a name and become paired for the year with his chosen woman. These matches often ended in marriage.

Valentine's Day: A Day of Romance
Lupercalia survived the initial rise of Christianity and but was outlawed as it was deemed "un-Christian" at the end of the 5th century, when Pope Gelasius declared February 14 St. Valentine's Day. It was not until much later, however, that the day became definitively associated with love. During the Middle Ages, it was commonly believed in France and England that February 14 was the beginning of birds' mating season, which added to the idea that the middle of Valentine's Day should be a day for romance.

Valentine greetings were popular as far back as the Middle Ages, though written Valentine's didn't begin to appear until after 1400. The oldest known valentine still in existence today was a poem written in 1415 by Charles, Duke of Orleans, to his wife while he was imprisoned in the Tower of London following his capture at the Battle of Agincourt. (The greeting is now part of the manuscript collection of the British Library in London, England.) Several years later, it is believed that King Henry V hired a writer named John Lydgate to compose a valentine note to Catherine of Valois.

Typical Valentine's Day Greetings
In addition to the United States, Valentine's Day is celebrated in Canada, Mexico, the United Kingdom, France and Australia. In Great Britain, Valentine's Day began to be popularly celebrated around the 17th century. By the middle of the 18th, it was common for friends and lovers of all social classes to exchange small tokens of affection or handwritten notes, and by 1900 printed cards began to replace written letters due to improvements in printing technology. Ready-made cards were an easy way for people to express their emotions in a time when direct expression of one's feelings was discouraged. Cheaper postage rates also contributed to an increase in the popularity of sending Valentine's Day greetings. Americans probably began exchanging hand-made valentines in the early 1700s. In the 1840s, Esther A. Howland began selling the first mass-produced valentines in America. Howland, known as the "Mother of the Valentine," made elaborate creations with real lace, ribbons and colorful pictures known as "scrap." Today, according to the Greeting Card Association, an estimated 1 billion Valentine's Day cards are sent each year, making Valentine's Day the second largest card-sending holiday of the year. (An estimated 2.6 billion cards are sent for Christmas.) Women purchase approximately 85 percent of all valentines.