Long Island antiques and collectibles listing antique stores, antique shops, antique dealers, antique events, appraisals. Look for the next upcoming antique shows and events to have your antiques and collectibles appraised by professional appraisers. Antiques auction houses offer buy and sale of antique furniture, art, automobiles, cars, books, bottles, china, clocks, decorative arts, dolls bears figurines, furniture, glass, jewelry, lighting devices, metalware, perfumes, porcelain pottery, postcards and sports memorabilia items in Nassau County, Suffolk County, Hamptons, Long Island New York. Click here for Long Island Antique Shows and Events.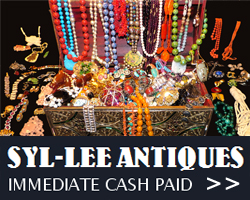 Syl-Lee Antiques

Buying Antiques, Collectibles, Gold, Silver and Costume Jewelry

Syl-lee Antiques is a Long Island, New York antique company. We are antique dealers who buy antiques, collectibles, gold, silver and costume jewelry. We are a family business that has been servicing the New York City and Long Island area for over 40 years. We offer free house calls 7 days a week. We will evaluate your items and offer you cash if you decide to sell them.

Philip Weiss Auctions

- read more >>

Philip Weiss Auctions


Long Island's #1 Collectibles Auction Gallery

Always buying books, comics, toys, stamps, dolls, trains and general collectibles. Consignments welcomed, monthly sales, worldwide clientele.

Phil Weiss has nearly 40 years experience in the collectibles trade. Growing up as a second generation book and stamp specialist he turned his interest in the collectibles field into one of the top collectibles auction houses in the country. He has owned and operated Philip Weiss Auctions for over 20 years. Phil has worked as a consultant for many of the country's top auction galleries. He has also contributed articles on the field of collectibles to many of the major trade publications. Phil contributes time on a regular basis doing auctions for local charities as well as free appraisals to raise money for senior centers and clubs. We offer monthly sales showcasing the highest quality material in all aspects of collecting.



Philip Weiss Auctions


1 Neal Court
Oceanside, NY 11572
516-594-0731
www.weissauctions.com

Thos Cornell Galleries

- read more >>

Thos Cornell Galleries


Long Island's Largest Estate Auction House

Thos Cornell Galleries holds monthly auctions consisting of 18th - 20th century antiques, decorations and accessories. Consignment accepted. Thos Cornell Galleries is an 15,000 square foot facility located on the south shore of long island midway between Manhattan and the Hamptons and only minutes from the fire island ferries. President Thomas Cornell, a licensed and bonded New York City auctioneer, was formerly sales manger, auctioneer and vice president of Lubin galleries in Manhattan. he has been in the business of buying, selling and appraising home furniture and furnishings, antiques and art objects for over 30 years. Auctions are held on a monthly basis specializing in estates, collections and shop liquidations. consignments are accepted at very competitive commission rates. the rate package includes free estimates, insurance and advertising. A large retail antique & design center is also located on the premise featuring fine quality antiques and reproductions. there is also a large selection of oriental rugs both new and old.



Thos Cornell Galleries


76 West Main Street
Patchogue, NY 11772
631-289-9505
www.thoscornellauctions.com

Island Coins - read more >>

Island Coins

We buy, sell and trade, attending over 40 coin shows per year to bring you the finest material available. We at Island Coins would like the opportunity to serve you, whether you are a collector, investor or dealer. Island Coins is a proud member of ANA, NGC, ICG and PCGS. Sacagawea dollar, mercury dimes, Jefferson nickel, collectable coins, walking liberty half dollar, coin collecting, coin collector, commemorative coins, silver eagle dollar, old coin prices, half cents/cents, two cent-nickels, half dimes-dimes, 20-25 cent, halves, dollars, currency, ancient coins, raw coins, gold, GSA dollars.

Island Coins

t 631-406-7097

tf 888-580-5508

f 631-265-1601

www.islandcoins.com

Amity Galleries Auctions for Antiques - read more >>

Amity Galleries Auctions for Antiques Antique, Estate and Liquidation Auctions

Antique and estate auctions offer a wide range of antiques, collectibles and estate items. Special auctions include on-site auctions held at the location of the estate or business being liquidated and category-specific auctions. Tag Sales: We hold complete estate sales that are held on the premises with all items individually tagged, priced, cleaned and repaired if needed, and attractively displayed. Services are tailored to meet the need for the client. Our service is confidential, professional, and sensitive to the customer or family members. We also offer cleanouts and leave premises in broom-swept condition. Our tag sales are are supervised by honest appraisers and we limit attendees to 15 persons at a time.

Amity Galleries

11 Broadway

Amityville, NY 11701

516-480-5794

631-691-5836

www.amitygalleries.com

Estate Liquidate - read more >>

Estate Liquidate

Estate Liquidate has been in business for over 25 Years. We are one of the largest antique brokers and estate liquidators in the New York tri state area.

Estate Liquidate

185 Atlantic Avenue

Oceanside, NY 11572

t 516-536-1200

tf 877-278-8777

www.estate-liquidate.com