Information about the types of Christmas trees

CEDARS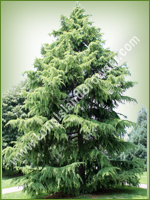 Deodar Cedar
(Cedrus deodara)


The Deodar Cedar is native to Himalayas with needle-like leaves mostly 0.9"-1.9" long slender borne singly on long shoots and in dense clusters of 20-30 on short shoots. Its color varies from bright green to glaucous blue-green.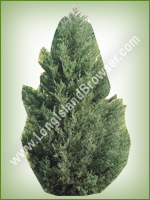 Eastern Red Cedar
(Juniperus virginiana)


The Eastern Red Cedar is a species of juniper native to eastern North America with two types of leaves: Sharp, spreading needle-like juvenile leaves 2"-3.9" long and tightly adpressed scale-like adult leaves 0.079" - 0.16" long; they are arranged in opposite decussate pairs or occasionally whorls of three. It has good scent but can dry out quickly.





CYPRESSES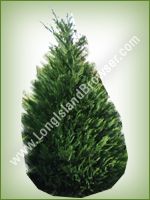 Leyland Cypress
(Cupressus x leylandii)


The Leyland Cypress is a fast-growing coniferous evergreen tree with upright branches and a feathery appearance. It is the most popular Christmas tree in the South-East with little aroma. Because it is not in the Pine or Fir family, the Leyland Cypress does not produce sap so those with allergy to sap can still enjoy it as their Christmas Tree.





FIRS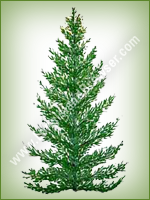 Balsam Fir
(Abies balsamea)


The Balsam Fir is a North American fir, native to most of eastern and central Canada and the northeastern United States. It has 1"-1.5" long, flat long lasting needles that are rounded at the tip. It has a rich dark green color with silvery cast and is very fragrant.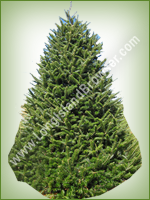 Canaan Fir
(Abies balsamea)


The Canaan Fir is a North American fir, native to most of eastern and central Canada and the northeastern United States with 1" long flat needle-like leaves that are dark green above often with a small patch of stomata near the tip, two white stomatal bands below and a slightly notched tip.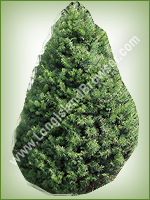 Douglas Fir
(Pseudotsuga menziesii)


The Douglas Fir has a conical shape and about 1" long needles with a blunt tip. Green on top with 2 white bands below. It has an enticing aroma.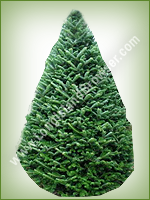 Fraser Fir
(Abies fraseri)


Fraser Fir is a species of fir native to the mountains of the eastern United States with pyramid-shaped strong branches and 1/5 - 1" long dark green flattened needles with silvery tone underneath. It has good needle retention and a nice scent.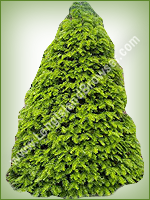 Grand Fir
(Abies grandis)


The Grand Fir is native to the Pacific Northwest and Northern California of North America with shiny, dark green needles 1" - 1.5" long.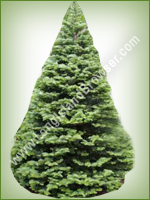 Noble Fir
(Abies procera)


The Noble Fir is native to the West Coast and has short, stiff branches and 1" long bluish-green needles with a silvery appearance. The noble fir is Very aromatic and has long keep ability. Its stiff branches make it a good tree for heavy ornaments.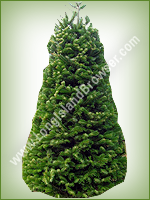 Nordmann Fir
(Abies nordmanniana)


A widely planted evergreen tree native to Greece, Turkey and the Caucasus with soft glossy dark green needles and erect, reddish-brown cones. It has symmetrically arranged strong branches perfect for holding large or heavy ornaments.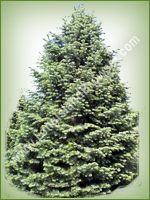 White Fir (Concolor Fir)
(Abies concolor)


White Fir is a fir native to the mountains of western North America with blue-green needles around 1/2 inches long. It has nice shape, citrus scentand good needle retention.






PINES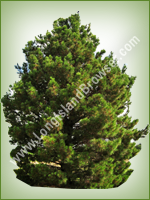 Afghan Pine
(Pinus eldarica)


The Afghan Pine has upright or pyramidal, dense form with soft, short needles 5"-6" long with sturdy branches. It has mild fragrance and requires some needle clean-up.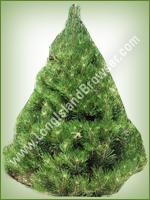 Austrian Pine
(Pinus nigra)


The Austrian Pine is a moderately variable species of pine with dark green needles, 4"-6" inches long. It retains needles well and has moderate fragrance.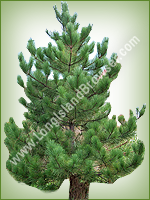 Red Pine
(Pinus resinosa)


The Red Pine is a coniferous evergreen tree characterized by tall, straight growth in a variety of habitats with dark green needles 4"-6" long.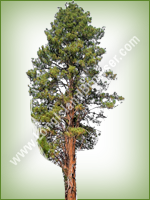 Ponderosa Pine
(Pinus ponderosa)


The Ponderosa Pine is a very large pine tree of variable habit native to western North America with needles 5"-10" long. It has good needle retention.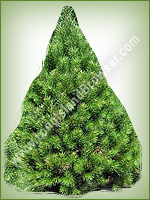 Scotch Pine
(Pinus sylvestris)


The Scotch Pine is probably the most common Christmas tree a hardy species with dark green foliage and stiff branches well suited for decorating with both light and heavy ornaments. It has excellent needle retention characteristics and holds up well throughout harvest, shipping and display.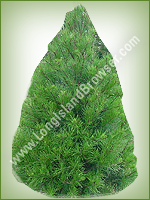 Virginia Pine
(Pinus virginiana)


The Virginia Pine is a medium-sized evergreen tree with strong aromatic pine scent and dark green needles 1 1/3" – 3" long. Its sturdy branches enable it to hold heavy ornaments.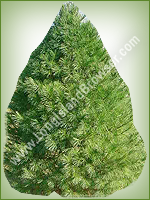 White Pine
(Pinus strobus)


The White Pine is a large evergreen tree with clustered soft blue-green needles native to eastern North America.





SPRUCES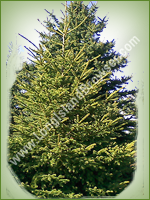 Black Hills Spruce
(Picea glauca)


The Black Hills Spruce is an ornamental evergreen with a dense, conical in shape and bright green to bluish needles. Slow growing.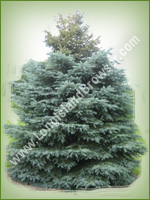 Blue Spruce
(Picea pungens)


A beautiful silver blue-green spruce with blue-green 3/4" - 1 1/4" needles rated one of the most popular evergreens.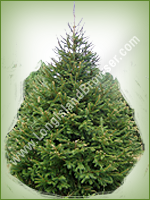 Norway Spruce
(Picea abies)


The Norway Spruce is an evergreen conifer, found throughout all of Ohio and much of the United States. It is the fastest growing of the spruces with strong graceful branches that are covered with dark green needles 0.5" - 1 "long.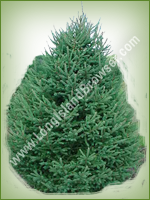 White Spruce
(Picea glauca)


The White spruce is a medium-sized conifer with cone-shaped crown found in northeastern United States and throughout Canada. Its green to bluish-green needles are 1/5 - 3/4 inch long, short and stiff.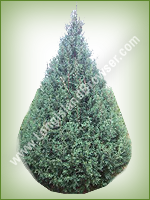 Carolina Sapphire
(Cupressus arizonica)


The Carolina Sapphire or Arizona Cypress is a conical tree with a pyramidal growing conifer and a great silvery blue colored foliage that is very aromatic. Grows slightly taller and much faster than Blue Ice; makes a great privacy screen or wind barrier.