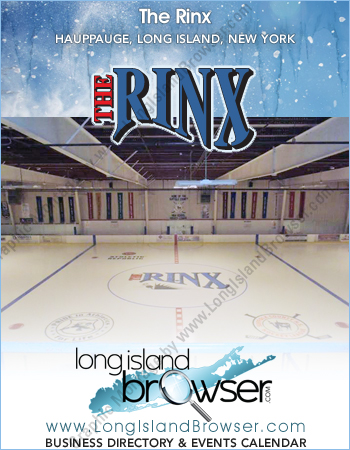 The Rinx is Long Island's largest ice rink facility with two indoor rinks. It offers lessons, leagues, and at least one public-skating session a day, and hosts birthday parties. Click here for the public-skating schedule.

The Rinx is a corporation dedicated to the recreational enjoyment for all ages. The companies under The Rinx umbrella are located on the beautiful 97 acres of Hidden Pond Park in the Town of Islip, Hauppauge, Long Island, New York.

Come and enjoy the many skating opportunities in our two full size, indoor ice rinks, or have a Birthday Party at The Time Out Cafe. You can even watch your child develop educationally at the Rinx Pre school Academy. We have something for everyone.

The Rinx offers learn to skate, learn to figure skate, hockey, day camps, parties, birthday parties, corporate events, chidlren's summer camps, corporate picnics, family reunions, girl scouts/boy scouts, holiday parties, team parties.

Rates: Weekdays $10.00, Friday night $12.00, children $7.50, seniors $4.50; weekends, holidays and school vacation days: $11, children $8.50, seniors $5.50. (Islip residents with recreation card receive $1.00 off adult admission.) Skate rental $5.50.