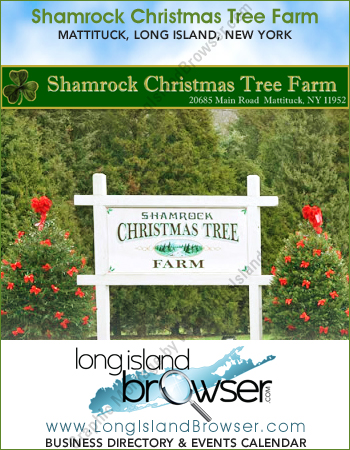 Shamrock Christmas Tree Farm was delightful and very well run with plenty of friendly helpers. You can borrow a saw and cut your own 4'-10' Douglas and Fraser Firs and Hybrid Balsams or choose and they will cut it for you at no extra charge. You and your tree will be brought back to the entrance in a tractor drawn wagon. Your tree will be placed on a mechanical shaker to fluff it and remove any unwanted critters. Then they'll wrap it up and help you tie it to your car. All field cut trees are $65.00 before tax. The farm also offers live and precut trees, a refreshment stand, an antique sleigh collection and a shop with holiday greens and a wide array of Christmas tree ornaments.

On weekends board the train, the Shamrock Express for a ride around the farm or sit by the the cozy fire pit with a free hot chocolate and some popcorn. Santa visits the farm on Saturdays and Sundays 12:00PM-5:00PM. The farm is open daily 9:00AM-5:00PM until Christmas Eve. We are a family friendly farm. No pets allowed.

- Cut your own, field cut, balled or pre-cut trees
- Handmade wreaths, grave blankets, pillows, crosses, kissing balls and roping
- Train rides weather permitting
- Antique sleighs for sale
- Santa visits every Saturday-Sunday 12:00PM-5:00PM

Open November 29, 2013 the day after Thanksgiving until Christmas Eve 9:00AM-5:00PM daily. Pelligrini Vineyard wine tasting and sales Every Saturday-Sunday 11:00AM-4:00PM.

Tags: Shamrock Christmas Tree, North Fork, Long Island, Mattituck New York, Santa, Holiday wreaths, sleigh train rides, cut your own Holiday tree, balled Chirstmas trees, pre-cut Christmas trees, Christmas tree ornaments, Holiday greens, live and precut trees, Christmas holiday decorations, decorated wreaths, plain wreaths, candy canes, grave blankets, kissing balls, grave pillows, crosses, Charlie Brown trees, potted mini trees, decorated potted mini trees.