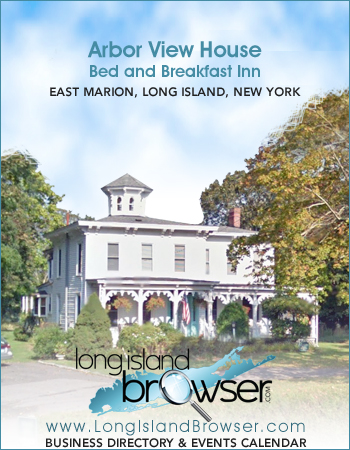 About the Inn- Arbor View House Bed and Breakfast was built early in the 18th century (circa 1780) and was originally in the Federal style. It was a small house with the entrance at the side of the house. Around 1873 it was purchased, added to and renovated in the then current Victorian manner by Captain Vail. The Vail family is one of the earliest families to inhabit these shores. This house is one of three remaining houses built or renovated by whaling Captains in East Marion, originally called Little Oysterpond, (Orient was called Big Oysterpond.)

Capt. Vail is buried in the local cemetery along with many other Vails.

The house has had some unusual artifacts including a widow's walk (might have blown away in the big hurricane of 1938), and huge cistern under the kitchen that used to collect rain-water which was then pumped up to the kitchen and two old grape vines. Veda and Wilfred tried to make wine and decided that it's much easier to partake of the fine award winning North Fork wineries in the area.

Arbor View House is listed by the Society for the Preservation of Long Island Antiquities (SPLIA) and is considered to be a fine example of Victorian architecture. It was lovingly restored and renovated in 1999 (with on-going projects being done all the time; e.g. the Champagne Suite floor was completely replaced) preserving its artifacts and replacing any that may have been removed; the restoration is continuing as we speak. This old house is a work in progress. The innkeepers, Veda Daley Joseph and Wilfred Joseph, have done a masterful job of restoring this old house to its former glory, by updating all the systems and adding bathrooms to each of the bedrooms. Wilfred, who has restored several old homes including one other Captain's home in the area, has made this his proudest project yet. The house is completely updated for the twenty-first century with all the creature comforts (including high speed wireless internet, flat panel TVs and DVDs and iPod players) needed to make this home truly a work of art but not a museum piece. Arbor View House is comfortable and elegant; the beds are top of the line so you can make this your home away from home. Wilfred also sells real estate on the North Fork, so if you are in the market for a second home, your dream home or want a piece of land to hold, contact Wilfred here.

Veda and Wilfred set out create a number of things when they started, first they wanted to make sure that you were comfortable and were able to relax, recharge and renew your body, mind and spirit, they also wanted to be sure that romance was in the air. Therefore, there had to be some balance and the needs of the guests met; where you could enjoy a romantic, comfortable place that feels like your home but is not. An attractive place yet not so stuffy or uncomfortable that it made you feel out of place – romantic yet not soppy. So they chose colors, fabrics and furniture that create that soothing, warm yet alive ambiance. The beds had to be comfortable, firm yet soft to enable and ensure a good night's sleep. They choose hypoallergenic fabrics and fillers that even the hypersensitive will not have a reaction. The food is comfort food, they use lots of exotic spices and then there are some surprises. Veda is an excellent cook and puts her heart and soul into her food and presentation. It's all designed to make you feel at home yet not at your mom's place. Then there are the Spa Services (massages, facials and the delicious award winning aromatherapy bath these are not only designed to reinvigorate and recharge your systems and senses, but to reconnect your body to your spirit. Come and have the experience, the Arbor View Experience.