Long Island fitness lists certified fitness trainers, personal trainers, certified group fitness instructors, master fitness trainers, licensed Zumba instructors, dance fitness events, gyms, health clubs, fitness centers, aerobic classes in Nassau County, Suffolk County, Hamptons, Long Island, New York.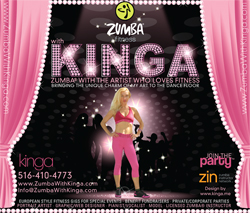 Zumba® with Kinga
Zumba® with Kinga offers European style fitness gigs for special events, benefit fundraisers and private/corporate parties. Zumba® Master Classes, Zumba® parties, special events and dance fitness gigs in Nassau County, Suffolk County and the Hamptons Long Island, New York with Edina Kinga Agoston, licensed Long Island Zumba® instructor.

In addition to performing fitness gigs, I have limited availability to teach classes bringing the unique charm of my art to the dance floor. My objectives are to take the art of creative brilliance (the depth of shading in pencil art and the colors/shapes/design styles in digital art) and trans-subtiating them into refined movements of the body is my ultimate goal with the additional objectives of having fun while staying fit. If you are looking to have Zumba® classes of inspirational charisma at your facility - give me a call at 516-410-4773 or email me at kinga@kinga.me

Anniversary parties, baby showers, bachelor/bachelorette parties, back on the prowl parties, bar/bat mitzvah, birthday parties, bridal shower, children's parties, corporate events, divorce/newly single parties, engagement parties, fundraiser benefits, girls night out parties, graduation parties, high school proms, holiday parties, office parties, pet parties, retirement parties, sweet 16, wedding showers, Zumba® for teachers after school.

Zumba Fitness®, the only Latin-inspired dance-fitness program that blends red-hot international music, created by Grammy Award-winning producers, and contagious steps to form a "fitness-party" that is downright addictive. Are you ready to party yourself into shape? That's exactly what the Zumba® program is all about. It's an exhilarating, effective, easy-to-follow, Latin-inspired, calorie-burning dance fitness party that's moving millions of people toward joy and health.