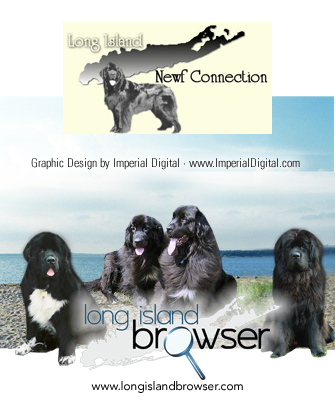 Long Island Newfoundland Connection

Long Island Newfoundland Connection on Long Island, New York is your home on the web to find out all the upcoming events and connect with other Newfoundland dog owners in the Long Island area. We are a brand new site and are open to your input and suggestions. This site is also an interactive one. Post your pictures in the photo gallery and post messages in the forum. In the Message Forum area you can find or post training tips, nutrition concerns, post upcoming Events like shows and playdates or just share what your Newfie did today. We offer T-shirts and other items with the Long Island Newfoundland Connection logo. A portion of proceeds from these sales will benefit Newfoundland rescue efforts. We'll let you know more about it when it's up and running.

Tags: Long Island Newfoundland Connection, Newfoundland dogs Long Island New York, newf, dog training, discussion forum, newfoundland dogs, newfoundland dog, newfs,newfies, newfie, puppy, puppies,landseers, newf rescue, Newfoundland dog discussion board, Newf message forum, Newfoundland message board, playdates, dog parks,message board, photo gallery, chatroom, Newfoundland health questions.