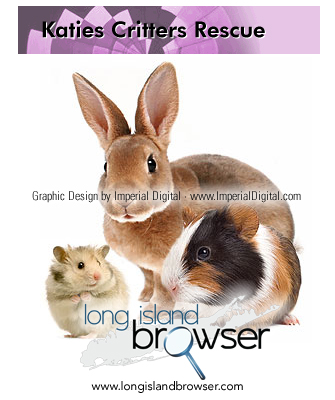 Katie's Critters Small Animal Rescue

Katie's Critters Small Animal Rescue's mission is to help educate the public and raise awareness of the prevention of cruelty to small animals (guinea pigs, hamsters, ferrets, cockatoos, conjures, parakeets) and birds. Katie's Critters Small Animal Rescue is an IRS registered 501(c) 3 not-for-profit public charity. We are also registered as a not-for-profit corporation through New York State.

We rescue and rehabilitate abandoned, abused, neglected, and unwanted small animals and birds, including exotics. We provide them with food, shelter, proper veterinary care, and love, in a caring home environment. We evaluate every animal and bird that comes in, and upon our evaluation, we will determine if the animal is safe, and healthy enough to be adopted, therefore we shall place them into an appropriately approved home by this organization. Some animals and birds are not adoptable, and therefore are placed into our Sanctuary Program, and we will be their life long caretakers. We are a no kill rescue. Every animal, and bird deserves a chance at life, and we make it happen.

We also like to educate the public on proper pet care, and responsible animal ownership, with the understanding that each animal is a life long commitment depending upon the animal you choose. Some may only live 3 years and some may live to be 90. Are you ready for that commitment? Research is the key to responsible animal ownership. We are looking out for the welfare of any and all small animals, and birds. We do not promote breeding of any kind. Adoption of small animals is far more better than supporting mills and over breeding of animals by purchasing them.