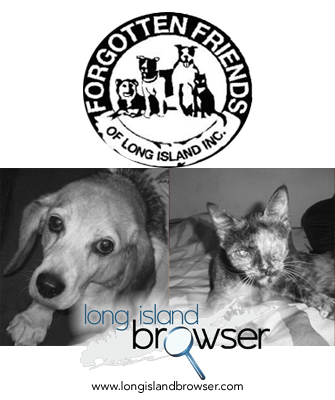 Forgotten Friends of Long Island
Animal Rescue Group

Forgotten Friends of Long Island Animal Rescue Group is dedicated to the rescue of companion animals which have been in municipal shelters for an extended periodic of time, overlooked by both the general public and by rescues. Sadly and through no fault of their own, these animals are homeless and wait patiently to be euthanized.

Forgotten Friends will also intervene, whenever possible, to rescue animals in dire need of immediate attention. Because Forgotten Friends believe that no animal should be unloved, nor is unlovable, we will not shy away from taking old, sick or "difficult" dogs/cats into our program.

Bearing in mind that this may be the first time in their lives these animals receive undivided attention and respect, Forgotten Friends will provide them with medical care and rehabilitation. Each dog/cat will be vaccinated, receive veterinary care as needed, heartworm tested and started on heartworm preventative, and spayed and neutered. Our volunteers will work tirelessly on training, teaching basic manners, and socialization both with people and other dogs/cats in order to prepare each animal to become a valued member of a loving and permanent home.

Forgotten Friends is committed to finding quality forever homes for its foster animals through proper screening of potential adopters. In order to end the needless suffering and death of countless companion animals, Forgotten Friends will use every opportunity to promote spay/neuter programs in the community and help to educate the public in responsible pet ownership.

Every animal in our care will be treated with kindness and dignity, every volunteer with respect and appreciation, every member of the public with sincere gratitude for their generosity and support in our mission to end the cycle of misery and death caused by overpopulation, neglect and abuse.

Tags: Forgotten Friends of Long Island, Animal Rescue Group, Long Island animal rescue, pet adoption, helping homeless pets, medical care, rehabilitation, veterinarian.