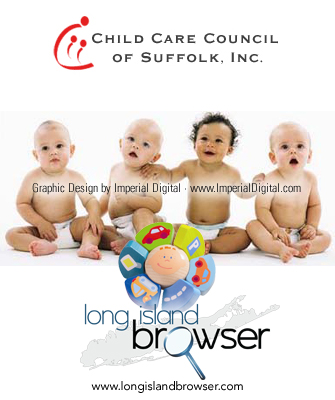 Child Care Council of Suffolk County
Child Care Counseling, Referrals, Professional Development and Technical Assistance

Child Care Council of Suffolk County is Long Island's premier community service organization that works with parents, providers, businesses, and community organizations to help promote the availability of quality child care services in the area. We provide parents with referrals and information on evaluating quality child care, plus resources on various parenting issues. We offer providers access to valuable training and support services for new or established programs. Child Care Council of Suffolk also works to assess the supply and demand of child care in the community and based on our findings, increase the supply where needed.

Child Care Council of Suffolk County is the not-for-profit planning and coordinating agency dedicated to making child care work for all of Suffolk County's diverse communities. Through advocacy, education and resource and referral the Council takes a leadership role in supporting children, families, providers, employers, and the public to ensure that quality child care takes its place as an integral part of society.

The Referral Service of the Child Care Council of Suffolk collects and maintains information in local Long Island communities. Because Parent Referral Specialists are in daily contact with providers of care and parents seeking care, our database is the most detailed and current source of information about local child care options. In addition to Child Care Centers, New York State Registered and Licensed Family Day Care Homes, In-Home Nanny Agencies and School Age Programs, we also have our own list of Legal Two Providers who are not available from other sources, or on this website. We hope you enjoy the information and resources we offer on our website. Feel free to contact us with any questions or comments.

Tags: Child Care Council of Suffolk, Child Care Council, Suffolk County, Long Island, New York, nonprofit agency, child care, child care counseling, child care referrals, child development, child care services, family services.