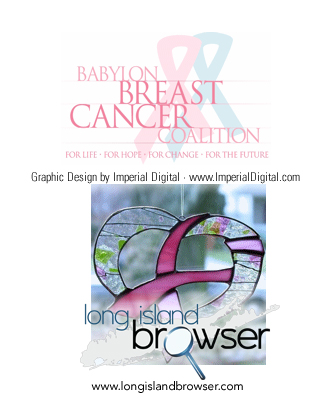 Babylon Breast Cancer Coalition (BBCC)

Founded in 1993, Babylon Breast Cancer Coalition continues to be a grass-roots organization, providing an array of patient support services, education and advocacy programs. Babylon Breast Cancer Coalition offers a wide variety of programs and services to educate and assist those in Babylon Township who are affected by breast cancer or any gynecological cancer. In keeping with our mission the Babylon Breast Cancer Coalition is continually developing and improving our resources to better serve this cause. Babylon Breast Cancer Coalition focuses on five essential goals:

Prevention
Support of the precautionary principle, prevention is the cure; encouragement and education about a healthy alternative lifestyle.

Research
Promote legislation to increase funding for environmental research and provide funding for specific breast cancer projects.

Education
Providing up to date information through our quarterly newsletter and information packets. We offer adult and student environmental awareness programs designed to help participants reduce their exposure to toxic chemicals.

Services
To offer breast and gynecological cancer patients a wealth of services paid for and facilitated by the Babylon Breast Cancer Coalition; such as the Lend a Helping Hand, SOS and the Pink Ribbon Programs.

Support
To provide support and referral services to breast and gynecological cancer and their families.

Tags: Babylon Breast Cancer Coalition, BBCC, Long Island New York, non-profit volunteer organization, breast cancer, gynecological cancer, healthy alternative lifestyle, prevention, research, education, referral services, support.