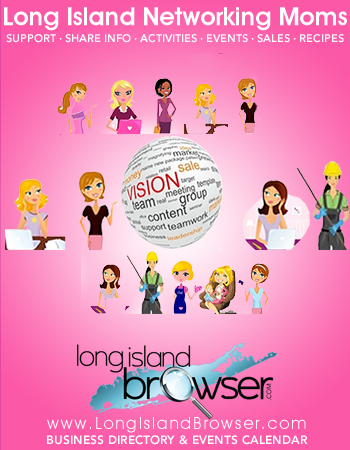 Long Island Networking Moms
Long Island Networking Moms is a place where moms in Nassau County and Suffolk County on Long Island, New York can get support, share info, activities, sales, recipes and more. Long Island moms connecting to support and empower each other in all aspects of life. Long Island Networking Moms businesses include accessories, auto, beauty, children, clothing and shoes, fitness and healthy living, food and eating out, gifts, house and home, legal and financial, pets, social networking, special occasions.

Motherhood is the best job in the world, although it is also the most challenging. We often find ourselves losing our own identity while we put everyone else's needs first. Join the Long Island Networking Moms and other business and career professionals to learn about a variety of ways to re-invent yourself in life, career, business and more. Enjoy an evening with other women, including professionals, business owners and other moms like yourself, and meet successful business owners who are happy to share their business information with you, professionals who can give great career and business advice, counselors who can help you find that work/life/family balance you crave and so much more.

Tags: Long Island Networking Moms, social networking, support, parenting, parenting adivse, parenting tips, chidlren, kids, raising children on Long Island, share info, activities, sales, recipes, meet-up groups, social networking meetups.